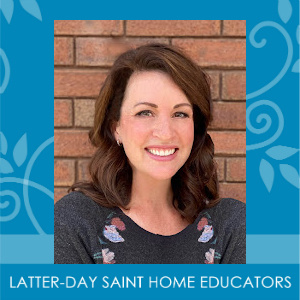 From a young age, Jamie knew she wanted to be a teacher. She comes from a long line of educators and found after serving a mission in Canada that teaching was made for her. After receiving her degree in Elementary Education, Jamie has taught Kindergarten, five years in fifth grade, and was a roving Sign Language teacher for grades K-6. She absolutely loved her time in public school and was awarded the Teacher of the year in 2007. After meeting her husband and hearing of his desire to homeschool their children, she began to see the benefits of a gospel centered-home education. Now his dream has become her own and she couldn't imagine doing anything else. Jamie has been homeschooling her five children (ages seven-thirteen) from the very beginning, and after nine years of struggling and succeeding, she loves to "see the extraordinary in the ordinary".
All Sessions by Jamie Cox
SLC Youth Day 1
5/24/2023
Become as a Little Child (Jamie Cox)
Building forts, scribbling outside the lines, and taking naps; who wouldn't want to be a kid again? Come play and discuss multiple ways to keep our hearts and spirits young even though we still have to grow up! *WARNING: This class may get loud and fun. Parental supervision is NOT advised.
SLC Parents Day 1
5/24/2023
Leave the World Behind (Jamie Cox)
Does the journey you're on seem long? Do you feel like you just need a vacation from life? While it may be tempting to want to take a break from all of the noise, pain, and doubt surrounding us today, let's try to see our homeschool journey from another perspective. Place all that matters in front of you as you focus on why you chose to homeschool in the beginning, and how you can turn down the noise from the outside world and center in on what truly matters.