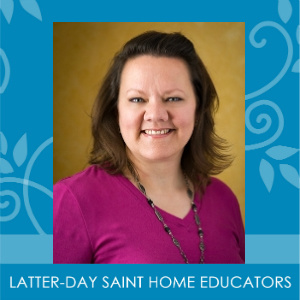 Dana has always enjoyed teaching. In high school she had the opportunity to be a student teacher, but found the experience frustrating as she was constantly told "you can't do that in a public classroom! There are too many kids." After that experience, she told a friend that she would never be a school teacher unless she could teach in a private school for gifted children where they let you teach to the children, not to the test. She has been doing just that since 1985, when she started homeschooling her children after reading John Holt's book, Teach Your Own. She has loved the challenge and the fun of learning alongside her children as they moved back and forth across the country as a military family. She has graduated nine of her ten children and is glad she still has one at home. She is excited that her grandkids are being homeschooled, too. Dana started with LDSHE as a mentor mom in 2005 and joined the Board as the Youth Conference President in 2006, developing the youth conference program. After four years as Youth Conference President, she has done a little bit of everything including Audio Library and Adult Conference Director as LDSHE expanded its conference out west.
All Sessions by Dana Wood
SLC Youth Day 3
5/26/2023
Heroes and Why You Need Them (Dana Wood)
All stories have a hero, and for centuries we have read and told stories to show us what a hero is and how they live. We celebrate heroes and wish we could be like them. But the world needs heroes in real life, too. In this class, we will talk about heroes in literature and movies so you can be a hero, too.
SLC Parents Day 1
5/24/2023
Ready to Launch? Now What? (Dana Wood)
Parents spend hours planning and executing their children's academic education and preparing them to graduate high school. Eventually, kids are ready to launch out of their parents' home and into the real world. But it's a scary world out there. How can parents know their youth will be successful? This class will help you prepare and encourage your young adults to take the next step and be as successful as they can be.
What is Your Child's Learning Style and Intelligence? (Dana Wood)
Our children are not blank slates ready for us to write our will on them. (Sigh.) They come with their own personalities, gifts, talents, and ways of learning. Emotional intelligence was debunked in 2016 as frivolous, but now psychologists believe that emotional intelligence can be a better predictor of success than IQ tests. Understanding learning styles and intelligences will make you a more effective teacher and can even help with parenting challenges.
Online Conference Day 1
2/9/2023
Stop the Worry about High School at Home! (Dana Wood)
Zoom Room 1
Parenting high schoolers can be a challenge. Homeschooling those high schoolers can seem overwhelming. But it can be done. And it can be fun! As a mom of ten, I have 25+ years experience teaching high school at home. We will discuss building a family culture, solving parenting problems, and calming the guilt teens can throw at us. Really! High School can be fun!