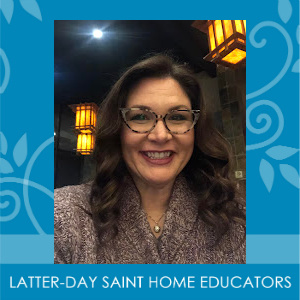 Candice Gwilliam loves life and trying new things! She loves having adventures, and some of her favorite adventures this past year have been zooming down a zipline in the tall trees over beautiful lakes with her husband in Indiana, tubing behind a speedboat in Utah with her mom-until the tube did a somersault on her face, kayaking down a lively river with her son in Ohio, and diving into crashing waves with her sister at Virginia Beach. Basically anything with speed and water gets a thumbs up. She loves the Lord and His gospel. Homeschooling has been a part of her family's life for eight years and her family has been blessed by following His guidance to take this path in surprising ways. LDSHE has been an answer to prayers for her family in providing a graduation, creating a space where other youth are just like them, and helping them open up in confidence. Candice loves working with the youth as the Assistant Director for the Youth Conference Committee and is so ecstatic to be here this year!
All Sessions by Candice Gwilliam
Gettysburg Youth Day 2
5/18/2023
Superheroes, Harry Potter, Mario, and the Temple??? (Candice Gwilliam)
Longstreet Suite C
In this class we will uncover the incredible possibilities of Priesthood Power, the seen and unseen training we receive in the temple, and how to use it to bless lives, including your own.
Come and Belong (Candice Gwilliam)
Grant Suite
We have all felt like we don't belong, but we do- we ALL belong! President Nelson asked us to gather Israel, but how exactly do we do that, especially when we don't feel like we fit in ourselves? Come learn how you can gather Israel in your own ways, even if you might just need to be gathered yourself.